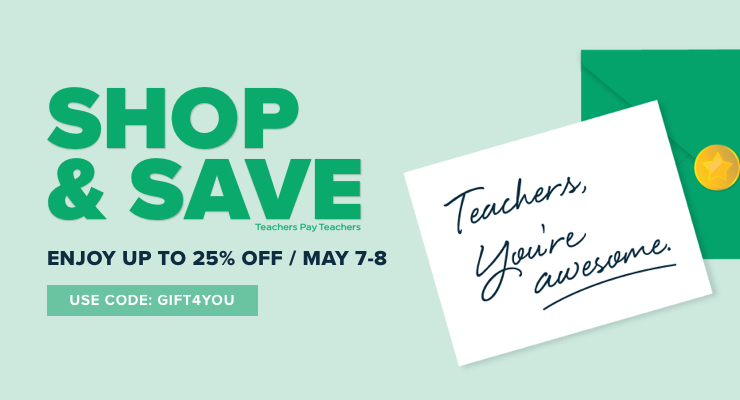 Well guys, we're almost there! The days are getting longer, the weather's getting warmer, and we (and our students) are getting itchy for summer.
It takes a really special person to be a teacher (or school counselor, school speech-language pathologist, school social worker, or other staff member). It means long days, longer nights, paperwork, meetings, exhaustion, tying wet shoelaces, smiling through stress. But really it means changing the lives of the children and shaping the future of our world every single day.
I'm always hard-pressed to find people who are more giving, compassionate, and selfless than my co-workers, which is why I absolutely LOVE Teacher Appreciation Week. Even if politicians and giant education companies don't always show teachers the love, lots of students, administrators, parents, and other teachers do!
One way TeachersPayTeachers is showing teachers the love is by once again holding a Teacher Appreciation Sale! For today and tomorrow only, enter the code "GIFT4YOU" at checkout and you'll receive 5% off everything you purchase! I'm really excited to be participating in this sale again this year, so that means you'll save 5% in addition to the 20% off sale I will be having at my store as well. You can save a total of 25% off EVERYTHING, including my money saving bundles!
This sale only runs through 11:59 PM EST tomorrow, so make sure you don't miss out! TpT accepts purchase orders, so it's a great opportunity to spend any extra funds your district may give you to use up this year or to get ready for next year!