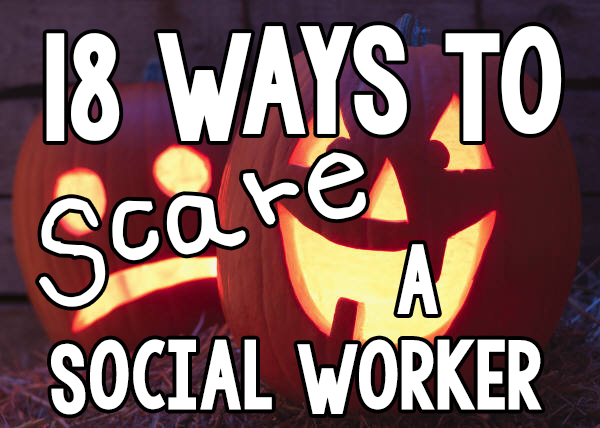 I recently saw a hilarious post on Sublime Speech about the Spookiest Things To Do To an SLP. I figured I'd jump on the fun and make a list for school social workers as well (I did borrow a few of hers!)!
Blinking voicemail light to start the day
A move-in student with a behavior plan and social work minutes
"unfounded"
Medicaid
Burps, gas, and runny noses
"I DIDN'T TAKE MY MEDICINE TODAY!"
An invasion of the Unthinkables
– A required 8-hour workshop that doesn't offer CEUs
"I don't allow _______ accommodation in my classroom."
10 calendar days or 10 school days?
An IEP invitation for tomorrow morning at 8:00 am
"My child has ADHD, and Bipolar Disorder, Intermittent Explosive Disorder, and ODD, Tourette's, and Anxiety, and Autism. They also have bad handwriting and can't tie their shoes."
Required professional development about teaching math under Common Core
Changing special ed. legislation
SQUIRREL!!!
– Questionable administrator discipline handlings
License renewal time!
Overdue re-evals
Anything I should add? What else scares you!?