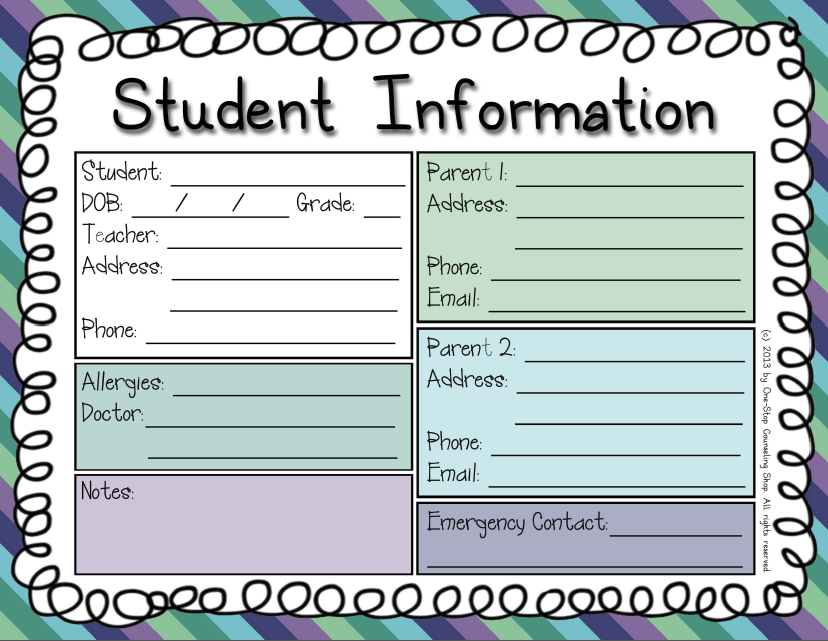 Lately, I've seen a huge amount of teacher organization binders on Pinterest and teacher blogs. Unfortunately, they aren't meant to be used by most special education teachers, counselors, or social workers – they're all organized for classroom teachers. So, over the course of the next few weeks, I'm making one for the rest of us 🙂 When it's done in August, I'll add it to my TpT Store, but until then, follow along and you can download them here for free!
So far, you've missed:
Group Organizer
User Name & Password Keeper
IEP Tracker
Service Log
Lesson Planning Sheets
My next pages are for individual student data! The front contains places for all the usual stuff: name, address, parent contacts, etc. The back has space for a brief overview of their IEP. Great for aids or subs that don't need to know everything about a student, but should know accommodations, the case manager, or other important details.
Here's a link to the warm-colored ones:
And the cool ones:
Enjoy!
Like the backgrounds? You can get them at my store here!